While blogging was still a major topic of discussion just a few years ago, things have been rather quiet around it in recent times. Even in the so-called blogosphere, we don't talk a lot about the actual activity of blogging anymore these days. According to a new report from research firm eMarketer, however, blogging is still alive and well. Today, half of all Internet users read blogs and while blogging itself remains somewhat of a niche activity, about 12% of U.S. Internet users update a blog at least once per month.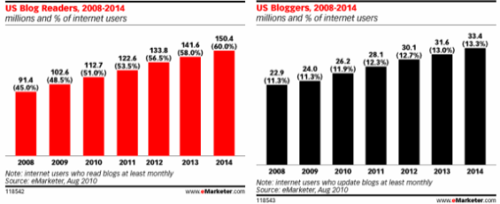 According to eMarketer, 60% of U.S. Internet users will be reading blogs by 2014. As eMarketer analyst Paul Verna notes, this upward trend will likely continue, but "over time, blogs will continue to become indistinguishable from other media channels." Indeed, we have to wonder how many blog readers aren't even aware that they are reading blogs. Since the early days of blogging, the word "blog" has meant different things to different people. After all, it can refer to both a personal diary and a serious media publication in reverse chronological order. One actually has to wonder whether the 50% of today's Internet users who say they don't read blogs simply aren't aware of the fact that they are reading them.
The post Blogging is Alive and Well, Says Report appeared first on ReadWrite.