The Yellow Pages in Canada is different in a few ways than its American counterpart.

The Yellow Pages is copyrighted in Canada. In the United States it is not. Yellow Pages Canada owns the brand. No one else can use it. Stateside, it is the opposite. Anyone can use the Yellow Pages brand name.
In Canada, the Yellow Pages have extended beyond the yellow pages books. It owns one of the country's largest online shopping sites in AutoTrader. Its online listings give it reach into local markets that is unmatched.
All of this adds up to why Yellow Pages Canada recently announced an API that it developed with the help of Mashery.
The 1.5 million listings give Yellow Pages Canada a local search capability that makes it appealing to developers.
And gives it an edge over services like Facebook Places which officially launched today in Canada.
You can see the value of the listings in the apps that have been developed since the Yellow Pages launch earlier this month.
"Where," leverages the API to provide a local search and recommendation service to discover places, events and mobile coupons in specific geographic areas.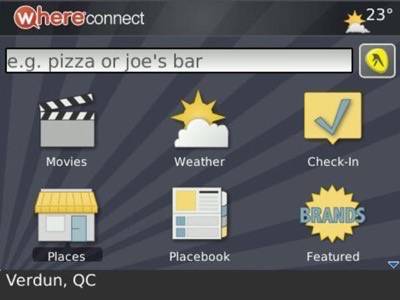 Lozzal uses the API for what it calls its "local discovery suggestion engine."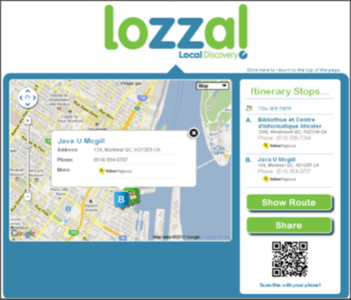 The key to the service is the ability to leverage the cloud via the API. Mashery is powering the API through Amazon Web Services. It's an example of how data can be pooled into one resource to make local search relevant. In the process, it strengthens the category for search, discovery and recommendation applications.
This is phase one for the Yellow Pages API. The service has the geo data in place. Developers can access detailed listings for the service they plan to develop. These include:
Name of business
Address (street, city, province, postal code)
Phone number
Location (latitude, longitude)
Video(s)
Photo(s)
Ad(s)
Logo(s)
URL(s)
Additional business information (opening hours, products and services, etc.)
Here's how the service works when making calls. You can see how photos and videos are made available: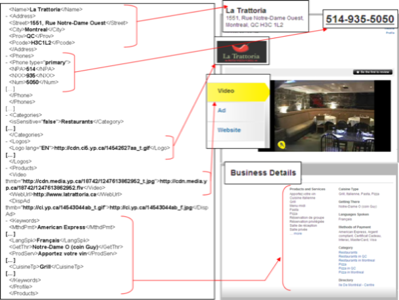 The service is an example of how modern APIs work. It is by no means complete. It is a read-only API. But that is also the beauty of cloud-based services. It is not set in stone. Development continues and services are continuously added.
Services from the United States that provide location features are coming to Canada. Will they go for it on their own or leverage the Yellow Pages API?
Facebook will be a test in that regard. Meantime, the Yellow Pages API will continue to provide distribution for the multitude of local apps that we expect to enter the market.
The post Canada Yellow Pages Launches API – A Picture of a Modern Service appeared first on ReadWrite.