Emerging from stealth today, Cirtas Systems unveils its Bluejet Cloud Storage Controllers, aiming make cloud storage work like an onsite enterprise storage array.

Cirtas has secured strategic alliances with leading cloud storage providers, including Amazon – a Series A investor in the startup. Deployed in the data center, Cirtas's Bluejet Cloud Storage Controller looks like local storage, but bridges the local to the cloud. It is, according to Josh Goldstein, Cirtas Systems' Vice President, "the best of both worlds."
Cirtas' Bluejet is an enterprise-ready solution that makes public cloud storage work like onsite storage arrays, "Advanced WAN optimization techniques are at the core of our Bluejet technology, and key to how Cirtas delivers substantially lowered storage total cost of ownership," says Goldstein. "These techniques combined with several others are what elevate Bluejet from a simple cloud gateway device to a Cloud Storage Controller that is truly enterprise class."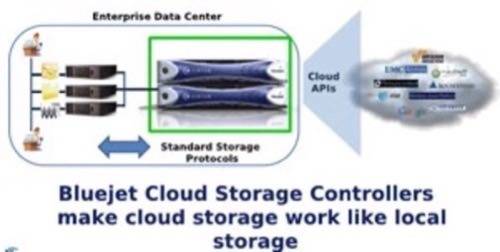 According to Cirtas, customers can install the device in less than two hours. Once installed, the device encrypts all data in transit to and at rest in the cloud, ensuring only authorized users have access to stored information.
Via the API, the Bluejet device allows the connection to multiple cloud providers.
The post Cirtas Aims to Move the Enterprise to the Cloud appeared first on ReadWrite.