Social bookmarking sites like Delicious are useful for collecting bookmarks, but they don't allow users to really draw connections and tell stories. That's where curation-focused services like Pearltrees and Trailmeme come in. Trailmeme, which we first looked at in December, was incubated at Xerox and launches at DEMO this week. It allows users to bookmark sites and then organize them in tidy diagrams, making it easy to highlight the relationship between different items and for readers to browse these links.

While Pearltrees only allows users to display connections in a relatively simple tree structure, Trailmeme offers its users more flexibility. Earlier this week, the projects manager Venkatesh Rao showed us a number of nifty examples for what users can do with this flexibility. This trail, for example, visualizes sites about the recent oil spill in the Gulf of Mexico by arranging sites in the form of an oil rig.
Besides allowing users to create their own trails, they can also browse and search other users' trails. On its front page, Trailmeme highlights those collections that are especially popular among its users.
The company offers a toolbar for Firefox and a universal bookmarklet for creating trails, as well as plugins for WordPress and – in the near future – MediaWiki. Sadly, Trailmeme doesn't currently offer the ability to embed collections on other sites.
A New Kind of Publishing
As Rao told us, the main goal behind Trailmeme is to allow users to "navigate the web via well-curated trails," but given the projects connection to Xerox, it doesn't come as a surprise that there is also a publishing angle to this tool. Trailmeme offers users the ability to print trails and save them as PDF files. As Rao told us, in the long run, the team is also considering to offer publishers the option to monetize their efforts and sell printable version of their trails.
Will Users Care?
Overall, Trailmeme is an interesting tool (though it lacks the visual appeal of Pearltrees and browsing trails often feels a bit sluggish), but it remains to be seen how many users are actually interested in curating their bookmark to the extend that Trailmeme and similar tools expect them to do. For most users, Google has already replaced regular bookmarks to some extend. If done well, however, an expertly curated collection on Trailmeme or Pearltrees can provide a lot more value than a simple list of links on Google or Delicious.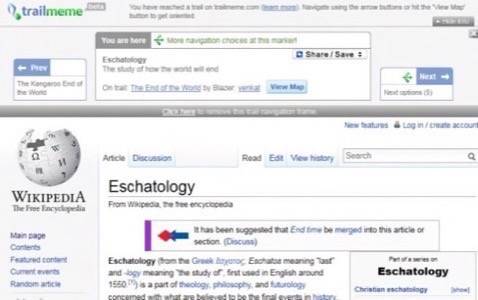 The post Collect, Process and Share Your Online Research with Trailmeme appeared first on ReadWrite.