Day 1 of Intel AppUp Elements 2010 included the keynote followed by intimate talks focused on three core pillars: monetization, fragmentation, and visibility. App developers were presented with the Intel vision of the app marketplace today and the near future.
Let's take a closer look.
Monetization, Fragmentation, and Visibility
Intel's head of AppUp, Peter Biddle introduced Renee James, VP and GM of Software and Services Group at Intel for the keynote. During the keynote James made a strong case to app developers for opportunities existing within AppUp and why now is the time to get on board. While James outlined the larger goals of providing a forum and dialog for apps developers, the key focus of her talk was to reiterate that Intel is intent on promoting and enabling better end user experiences.
Of particular note was the imagery within presentations at Intel AppUp Elements. In almost every visual the front and center device was what appeared to be a Cisco Cius tablet wedged in between a mobile handset and netbook form factor.
When referencing AppUp, James was quick to indicate that Apple has done the industry a huge favor by bringing innovation to the app marketplace. She quickly added that Intel wants to take the app marketplace concept to a new level via AppUp as a scaled content and delivery platform.
In regards to tablets and touch, James referred to the perfect storm of "good enough" technology arriving in recent years. She still views the industry as being in its infancy with regards to gesture and gesture recognition. Additionally, she posited sensor evolution and newer generations of computer users (yes, children) will match ability and expectations for scenarios such as air typing because that's just how it should work.
On the topic of how the vision will form as a reality, James expanded on how the consumer experience is increasingly snap and go and true solutions for consumers should just work. Further, her take on the consumer experience was that it must be seamless across any number of devices.
Numbers share by James included a 19% year over year growth in smart components. Less specific numerical language was used in addressing fragmentation but it was clear that Intel is interested in solving bigger challenges such as standardization. James gave the example of how Intel talked ASUS out of trying to create their own store by showing AppUp as a clear and less risk prone path. Such a statement just shows that Intel is truly a silent hand of the software industry.
Some general take away items: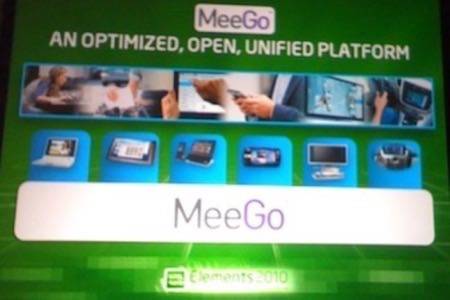 MeeGo will take the place of Moblin as the mobile OS optimized for Atom based devices.




MeeGo is being put onto ARM as well




Intel Atom Developer Program (old) and Intel AppUp Developer Program (new) is the same acronym and too confusing so there will be one developer program going forward




iPhone porting and retargeting support will be a key part of the support program



With an obvious eye to the approaching holiday season, James shared how the big box retail strategy of AppUp will shape and grow. Specifically, distribution and bundling plans for the Fall of this year were featured in a video of executives from the big boxes themselves. Visible names included BestBuy, Croma and Dixons Retail but James added that other large players are still unannounced.
Rounding out the keynote, James shared the bold new On Intel AppUp Badge. The badge will be a way to increase visibility, consumer awareness, trust and availability. She ended with a very bold statement as well. Intel wants to be the premiere point of distribution world wide for applications.
Coder Challenge Highlight
At 11pm there were still coders at the event going strong for the Coder Challenge. One of the entrants shared their entry and it highlights how AppUp could have a large impact for app developers and the consumers that will discover the apps that enhance experiences.
Team: Easy DICOM Viewer from Peridot Technologies, http://www.2dicom.com
Problem: Doctors are always on the move but many patients studies systems are not so mobile. Specifically, imaging systems are notoriously desktop oriented.
Solution: Doctors download patient studies (in DICOM Format) on their portable devices (Intel Atom Based Devices with Windows OS). From the Easy DICOM Viewer doctors will be able to open and view Patient Study Images and Data easily and quickly. Additionally, doctors can share the data and images with their peers enabling a social approach to medicine.
Stay Tuned…
Day 2 Coverage will be posted later today and include more key take away items for app developers. Updates will include Day 1 notes from from introductory sessions to deep and dirty discussions of the ins and outs of the AppUp experience.
Until then… let us know if you have any questions or thoughts about AppUp in the comments below!
Disclosure: Intel is a sponsor of ReadWriteWeb.
The post Day 1: Intel AppUp Elements 2010 appeared first on ReadWrite.