Streaming video service Dyyno just launched an interesting new product for anybody who wants to stream live video, presentations, games or movies from a desktop to the Web. Thanks to integrating closely with Justin.tv, Dyyno's Universal Broadcaster for Mac and Windows now allows users to share their content with millions of online viewers on the popular streaming video site. Besides signing in to Justin.tv, all it takes is a simple drag-and-drop gesture to start the live video stream.

Until now, Dyyno was mostly focused on bringing viewers to its own landing pages or those of its paying partners and to help its partners to monetize their content. While Dyyno's overall strategy has not changed, the team is clearly focused on increasing its name recognition and offering its users more outlets for their videos.
Even if you are not interested in Dyyno's own portal, today's release makes it significantly easier for anybody with an interest in streaming content to Justin.tv to stream a live Skype video chat or live event with just one click. The software comes with presets for streaming movies, games, documents and photos, but you can also choose your own bitrate, framerate and resolution (up to 1080p HD).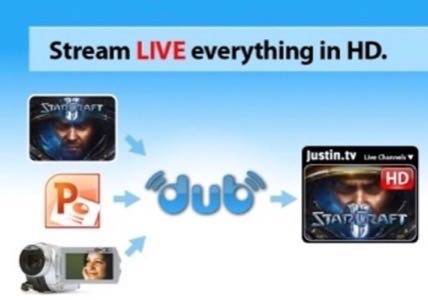 As the company's CEO Raj Jaswa told us earlier this week, Dyyno wants to position its service in the middle between Justin.tv's free solution and relatively expensive services like Telestream's Wirecast solution. Dyyno will give its software away for free to the first 10,000 users and then charge a $199 one-time fee for the service.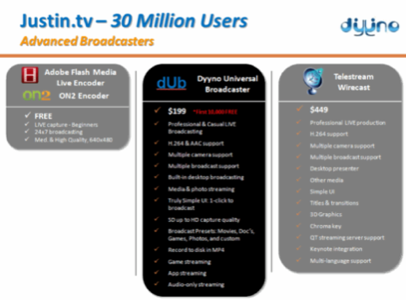 The post Dyyno: Stream Anything From Your Desktop to Justin.tv With One Click appeared first on ReadWrite.