Foursquare has quietly added a new feature to its website this afternoon that you won't want to miss: a new "add to my foursquare" button that can be embedded on any website.

If you own a business or publish a web page about any real-world location, this very simple button will allow visitors to your website to add going to your location as a "to-do" item and receive a push-notification to their phones whenever they check-in anywhere nearby. This small button could deliver a substantial part of the promise of Foursquare – tying together our discoveries online with our experiences offline.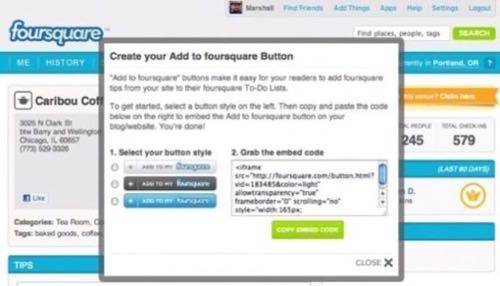 The new feature was first seen and reported on by the watchdog blog AboutFoursquare and the Foursquare site has been experiencing unusual difficulties loading this afternoon. If it's struggling right now, imagine the load when these buttons are launching pop-ups for locations from web pages all around the internet. In fact, the embed code appears to be going up and down off the Foursquare site from episode to episode of uptime this afternoon.
The official announcement of the new Foursquare iPhone app and this button just went up on the Foursquare blog.
Retailers have long expected a day to come when they could push coupons out to the mobile devices of people walking by their stores. This model is much more user-friendly: push a "to-do" reminder about your location whenever a person who expressed interest online registers their off-line location near you via Foursquare.
This Makes Sense
A tool to convert web traffic into foot traffic, through automatic proximity-based notifications? A whole lot of organizations will be putting that on their websites very quickly. Users will enjoy it too, as an easy way to remember to do the things they got excited about while browsing online.
How many times have you looked at a commercial web page with buttons on it for Digg or Delicious? Putting those on most commerce-oriented sites is a waste of time and just makes it clear that someone doesn't know how those social sharing sites work. (Digg, for example, is for news items primarily within the last 24 hours. When I see it on an outdoor store's page for a tent it's selling, that's just silly.)
An "add to my Foursquare" button, though? Expect to see every social media manager for every business with brick and mortar locations to have that added to commercial websites by the end of the week.
How do you add one to your business or location's web page? Just go find the Foursquare page that corresponds with your location and you'll find a link that says "embed" in the map displayed. Click that and you'll get the code to put on your page.
Where will people start putting these buttons? The sky, or rather every web page about the whole real-world under the sky, is the limit.
In July, we discussed how Foursquare works with brands like the Independent Film Channel and the History Channel to create very interesting "lenses" through which to experience locations around any city.
There's a fair amount of overhead required in order to do that, though. You can add one of these new buttons to your site in seconds. This is a simple, but very exciting change.
The post Foursquare Launching New Must-Have Button for Websites appeared first on ReadWrite.