We have written quite a lot about the decline of the startpage and the dismal state of RSS readers. No matter the state of these two markets, Genieo manages to combine these two with a sophisticated recommendation engine to bring you a personalized startpage based on the sites you visit throughout the day. As you surf the web, Genieo constantly learns about the topics you are interested in and automatically subscribes to the feeds of those sites you visit regularly. Thanks to its sophisticated recommendation engine, the service can then determine which stories to show you on its startpage.

News recommendation services are going through a growth phase right now. On the mobile side, we have services like Flipboard and My6Sense that look at your RSS feeds and the links that your Twitter and Facebook friends share. On the Web, there are Twitter-based services like paper.li and RSS-based offerings like Feedly.
Adapting to Your Browsing Habits
What makes Genieo stand out is that it is completely private and completely personal. As a desktop tool (Windows-only for now, but a Mac version is in the works), it is able to watch your surfing habits but doesn't need to relay any of your personal information to a server. Due to this, your privacy is assured and the recommendations are not based on what your friends are reading but purely based on your own surfing habits. As the company's co-founder and CEO Sol Tzvi told us earlier this week, this approach also allows Genieo to learn when you stop being interested in a given topic.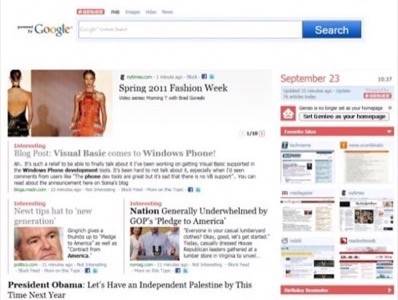 While it doesn't have the visual appeal of Flipboard, Genieo's design works perfectly well. What's most important, though, is that the recommendations are extremely good. After installing the application, Genieo will take a close look at your browsing history to seed its engine. After this, it will constantly update its recommendations and your startpage based on the topics you are currently most interested in. Of course, you can also manually edit the sites it subscribes to and train the algorithm by telling it that a story wasn't interesting to you, but in our own experience, this was hardly ever necessary.
If you want to give the service a try, you can download Genieo for Windows here.
The post Genieo: A Recommendation Engine that Learns From Your Browsing Habits appeared first on ReadWrite.