Early in the life of Facebook, the social network was used to organize a big march against violence in the South American nation of Colombia. The march was organized by everyday people, empowered to communicate more quickly and effectively than ever before by the network of communication technology.

That's a story that Facebook likes to tell, a lot. That's why it's strange to see a fast-growing protest group now on Facebook get shut down "to ensure Facebook remains a safe, secure and trusted environment for the people who use it." Leading political blog Politico reported this weekend that a Facebook page titled "Boycott Target Until They Cease Funding Anti-Gay Politics" has had publishing rights stripped from its owners. It's possible that everyone is just confused by Facebook's labyrinth of Pages, Profiles, Groups, Permissions and More. But if it's a simple misunderstanding, it would be nice if Facebook responded with some deference to its Free Speech roots. Updated with Facebook's response below.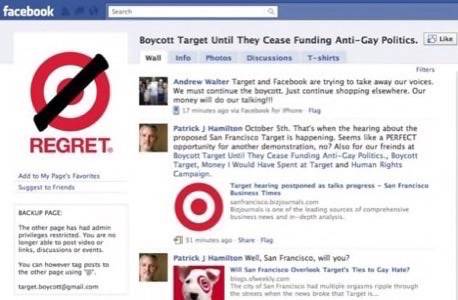 Retail giant Target donated money to an anti-gay Minnesota gubernatorial candidate and nearly 100,000 people "Liked" a Facebook page calling for a boycott of the company. By Liking that page, they effectively subscribed via their Newsfeeds to updates from the Page administrators and published a note out to the Newsfeeds of their friends announcing their Like for the protest Page.
This weekend Politico's White House and courts reporter Josh Gerstein posted a 3 page article (via Huffington Post Technology) alleging that the Page's owners have been stripped of administrative and publishing rights. To be fair to Facebook, the site is poorly-enough communicated that very few people would be so bold as to clearly spell out what kinds of publishing rights and capabilities various types of pages or groups or whatever has.
That Politico report included a story about a Boycott BP page which was also stripped of rights, but just days later Facebook reinstated the administrative rights of the BP protest page owner, saying it had been a mistake of automated spam control to remove them.
In response to Politico's inquiry this weekend, Facebook reportedly offered this response:

"Facebook Pages enable public figures, organizations, businesses, and brands to share information, interact with interested people, and maintain an engaging presence on Facebook," said a Facebook spokesman, who asked not to be named. "They're … optimized for official entities' needs to communicate, distribute content, engage people and capture new audiences. To protect people from spam and other unwanted content, we restrict Pages that represent ideas or positions — rather than discrete entities — from publishing stories to people's News Feeds."
"This policy is designed to ensure Facebook remains a safe, secure and trusted environment for the people who use it," the spokesman said.
The vast majority of people who cry censorship on Facebook are plausibly guilty of spamming the site. But it's also confusing what kind of account a protest group should set up. There are Groups, Pages, Community Pages and Sponsored Pages – all of which are very different from a standard profile you'd create on Facebook as an individual.
The fundamental question, though, is: are groups like Boycott Target welcome to use Facebook as a tool to rally the troops for their battles, whatever they may be?
Surely Facebook doesn't really feel threatened by a little boycott page on its site, right? Surely this is just a high-profile mistake.
Surely this isn't a case of Facebook changing its tune so fundamentally that is no longer a hospitable place for the kinds of "change the world" efforts it took pride in enabling unlike anything else had before, in the early days of the site. Actually, that wouldn't be hard to believe at all – it's a big company now.
We've emailed Facebook about this apparent irony and will update this post if we hear back from them.
Update: Facebook's response.
Simon Axten, Associate, Privacy and Public Policy at Facebook:
This policy is designed to reduce spam by restricting Pages that represent generic concepts and aren't affiliated with any official entity (blog, organization, etc.) from publishing stories to people's News Feeds. An example of the type of Page this policy was designed for is "Pizza." We've found that most people who like these generic Pages do so to express an affinity, not to receive ongoing updates, and we've seen these Pages misuse News Feed publishing rights in the past.

We've listened to feedback and are evaluating the policy more closely to determine what changes we can make to allow legitimate grassroots movements to communicate effectively with their supporters, while at the same time preventing spam and other unwanted behavior.
The post Has Facebook Turned Its Back on Its World-Changing Mission? appeared first on ReadWrite.