Layar has had a busy week. The augmented reality software makers recently announced the inclusion of Skyhook Wireless' location SDK, a new local search feature called "Nearby" and a free embeddable AR viewer called "Layar Player" for iPhone apps. All the while, however, the company also showed off an experimental augmented reality technology called "sensor fusion" at Google Zeitgeist. The video below of the demo is pretty incredible, and could be beginning of a new generation of augmented reality.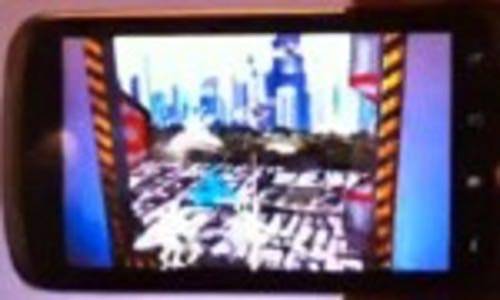 As you seen from the video, a simple black-and-white marker is used to trigger a 3D experience with animated objects at which the user can "shoot." Nothing new there. But notice as the objects fly out of the wall and the camera turns, the phone continues to track the objects in their relative virtual position even after the 2D marker has left the camera's vision. That's pretty impressive.
"Sensor fusion" refers to the software's ability to simultaneously use camera and accelerometer data to create better spatial awareness. Since the phone can tell it has been turned a certain way thanks to its sensors, the software can translate that motion and continue to project 3D objects in their relative positions.
The other interesting thing about this demo is it is a streaming session between two people in a multiplayer game experience. Two people can "shoot" at the same set of 3D models and play together to fight virtual foes. Layar says it is the first online multiplayer AR game, but I seem to remember a very early "virtual tennis" promotion where two people could bat a tennis ball back and forth in virtual space.
Either way, the demo is very fascinating and points to a bright future for mobile augmented reality. "Sensor fusion" that includes GPS chips and gyroscopes is going to be an important feature to interactive AR experiences in the near future. Being able to continue an AR experience even when the camera moves away from a marker will open the door for some amazing experiences.
The post Impressive Augmented Reality R&D Demo Shows Off "Sensor Fusion" [VIDEO] appeared first on ReadWrite.