Zenoss, the corporate sponsor of the cloud-based networking and management project Zenoss Core, has released the results of its 2010 Virtualization and Cloud Computing Survey. The survey asked IT professionals from over 200 organizations about their use of virtualization and cloud computing.

Not surprisingly, perhaps, security was listed as the major concern of respondents, followed by management. And flexibility and hardware savings were listed as the major reasons why companies chose to use virtualization.
Other findings include:

41% indicated that they preferred to deploy servers virtually, and 29% indicated they used virtualization whenever possible.
The number one stated goal with regards to virtual infrastructure was cost savings (65%).
71% preferred tools that managed all infrastructure rather than point solutions that were virtualization specific.
The vast number of virtualization users don't utilize automation. In managing virtual environments only 39% of virtualization automate the starting and stopping of virtual machines based on operational conditions.
73% have not made a decision on their virtualization management solution.
26% indicated they would be deploying hosted data services.
44% of respondents said their plans for virtualzation involved Amazon. 28% said they involved Google App Engine.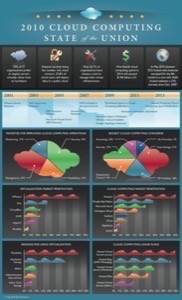 The full report can be found on the Zenoss website
The post Infographic: The State of Cloud Computing appeared first on ReadWrite.