Microsoft just launched the first beta of Internet Explorer 9. After a series of developer previews, this is the first release of Internet Explorer 9 that features the browser's new interface. The new design is very clean and only features a single bar for entering URLs and managing your tabs. In addition, the browser is also integrated more tightly with Windows 7 and allows users to pin websites to the task bar, for example.

You can download the beta here.
First Impressions: Fast and Clean
The first thing you will notice after installing IE9 is how snappy it is. While we haven't run any formal benchmarks yet, it is clear that the addition of hardware acceleration and an updated JavaScript engine has now brought IE9 back within the reach of Chrome and Firefox and maybe even surpassed them in some aspects. No matter the result of our benchmark tests, from a user's perspective, there does not seem to be a major speed difference between any of the modern browsers.
The new user interface is basically a stripped-down version of the IE8 design. Microsoft says that it wants users to be able to focus on the website and not on the browser. With the unified URL and search box Microsoft has managed to keep the interface functional and out of the user's way. Warnings and dialog boxes now quietly appear at the bottom of the screen and don't steal your attention.
For a more in-depth look at the new features in Internet Explorer 9, also have a look at our earlier coverage of the beta.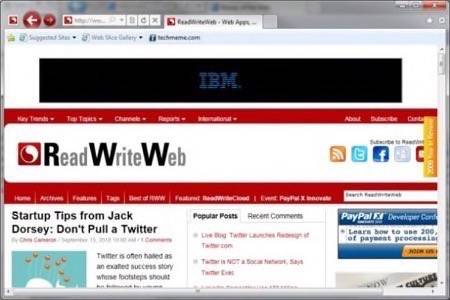 Give it a Try and Let us Know What You Think
Of course, these are only just a few first impressions and we will put the IE9 beta through its paces over the next day or two. For now, if you are a Windows users, head over to beautyoftheweb.com and give it a spin. Then, come back here and let us know what your first impressions are.
The post Internet Explorer 9 Beta Now Available appeared first on ReadWrite.