An iPhone application called "iPA God," which supposedly aids in the distribution of pirated applications, is now up for sale along with its source code. The app, whose name refers to the file extension for iPhone applications (.ipa ), made waves in the hacker community last week, when it was revealed to be the first ever tool for downloading paid applications to your phone that didn't first require you to jailbreak your device. Instead, the app is said to use an exploit found in the latest versions of the iPhone operating system.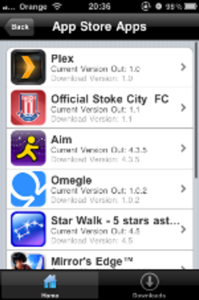 Now the developers have put the application, the source code and usage instructions up for sale on an Internet forum. Despite the fact that the app itself remains untested and unreleased, the highest offer for this app piracy tool is currently at £20,000.
Jailbreaking, for those unaware, is the term that refers to a particular hack that permits the installation of unapproved, third-party applications to an Apple mobile device, such as the iPhone, iPod Touch or iPad. There are several grey-market application stores now available to those in the jailbreak community where you can download everything from the raunchier, rejected apps to incredibly useful paid applications like MyWi, which turns an iPhone into an Wi-Fi hotspot.
However, once a phone is jailbroken, there are ways to install pirated (aka "cracked") applications, too. These apps are hacked versions of paid applications available for sale in the iTunes App Store, but are completely free to download through the use of specialized apps and tools.
Jailbreakers aren't always app pirates, mind you – there are plenty of good reasons to jailbreak besides stealing apps –  but app pirates have always been jailbreakers, out of necessity. A tool like "iPA God," assuming it works as advertised, would make iPhone app piracy even more accessible to end users, as anyone would be able to steal applications without having to go through the sometimes complex iPhone jailbreaking procedures.
About iPA God
The news about "iPA God" and its capabilities started making the rounds last week when a video demonstration of the application in action was posted to YouTube. According to the developers, the application works by using an unpatched exploit found in iOS versions 4.1 and 4.2. In the video, the app is demonstrated on an iOS 4.2, which has yet to be jailbroken.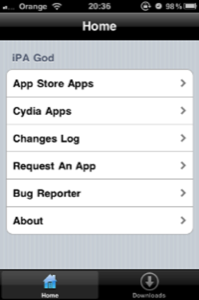 Now, according to this post on an Internet forum, iPA God, its Twitter account, the source code and usage instructions are up for sale in an auction that ends Tuesday at 12 PM EST.
One of the application's developers, who goes by the name "Jmiz9000," says the team is selling the app because they cannot afford to maintain it. Although there are obviously legal concerns here in the U.S., as forum posters responding to the offer point out , these can be avoided by hosting the app's servers overseas. Notes one user, for instance, "our server is located in China…we host a lot of cracked ipas and cracked Cydia apps for years, so we have no problem about copyright since it's not existing in China!"
Should Developers be Concerned?
Before developers get too worked up over this potential threat to their livelihoods, it's important to note that this "iPA God" tool may or may not be legit. Although the video appears undoctored and the exploit the app uses is also known to work, the actual source code for the app has not been made available to the wider developer community for testing purposes. How functional an application iPA God is, for now, is undetermined.
That said, the jailbreaking community has been growing in numbers over the years. When two of the top "jailbreak apps stores," Cyida and Rock, announced a merger earlier this month, there were some surprising statistics about jailbreaking usage numbers revealed. Rock said it has been installed on 4.6 million unique iOS devices from 220 countries and/or territories to date, has 2 million registered users and sales of more than $3.3 million. Cydia, meanwhile, had 1.6 million installations as of last spring.
The post iPhone App Piracy Tool and Source Code Up for Sale appeared first on ReadWrite.