Napster, the once peer-to-peer music sharing service turned pay service, has finally entered the mobile music market for Apple users with today's release of a Napster app for the iPhone, iPad and iPod Touch.

Though it's entering the market a bit later than some competitors, it comes with a larger catalog than some and features similar to those that have tipped the scales for other services.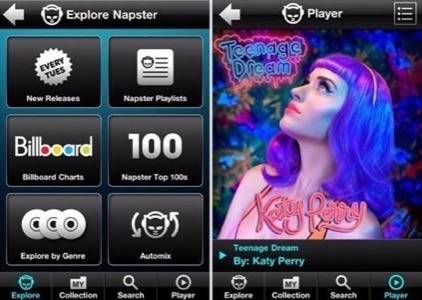 It's been a long time since Napster straightened up and flew right, and the advantage of going legit is that its users can now pay $10 a month for access to a catalog of more than 10 million songs. The app gives users the ability to stream music and download it to their phone for offline listening, much like other apps. In many ways, the Napster iPhone app looks remarkably similar to other apps, like Rdio or MOG, in feature-set, catalog size, user interface and even cost. The big thing it carries that other services don't is name recognition, which is perhaps why Best Buy bought the music service back in 2008.
Right now, the music app market is seeming more and more saturated with apps that do nearly the same exact thing, with nearly the same catalog for nearly the same price, and it may come down to factors like name recognition or ease of use. The other day, we wrote about how MOG got us to pay for music but if another app, like Napster, is suddenly available for the same price with more music, what's stopping us from switching over? Or if social features like community-created playlists are what fuels our music discovery, will a service's popularity be the deciding factor?
For now, it feels like mobile music is anybody's game (and Google or Apple could come in with a cloud-based service at any time and upend everything), but Napster is surely a solid competitor in the current atmosphere.
The app is now available for download in the App Store.
The post Napster Comes to the iPhone, iPad appeared first on ReadWrite.