A few weeks ago, we posed this question for our weekly poll: What are the top five worst terms for cloud computing?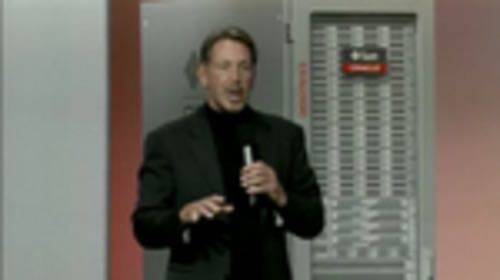 "Cloud in a box," came in first out of the approximate 1,100 votes submitted.
Oracle doesn't quibble with the term. Oracle describes its new Exalogic Elastic Server as a Cloud in a Box. Today, another company sent us a pitch. They described it as a "private cloud in a box," a new winner in our book.


Oracle will have you believe that its box is the cloud. That it's so powerful that two of its servers could handle all the traffic of Facebook's 500 million users. That it's the equivalent of hundreds if not thousands of virtual machines. That this one machine is the cloud.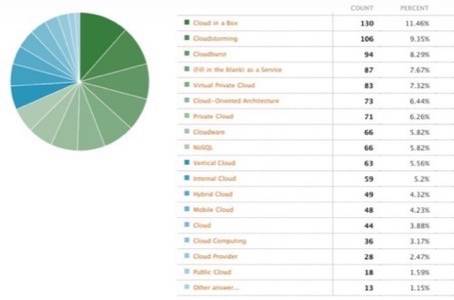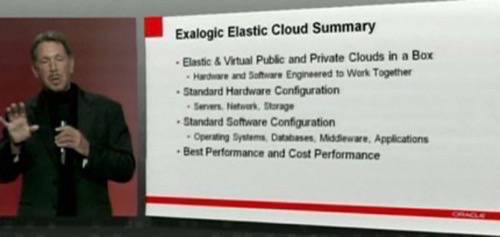 We're not here to tell you what to believe. We think this is more an issue of the entire market, not just Oracle.
One analyst said to me that the industry is killing the potential of cloud computing. Fear, uncertainty and doubt are standard practices. Oracle used one keynote today to show a video of an imaginary retail company that has screwed its company beyond belief by adopting cloud computing. Data had been stolen. The e-commerce system had gone down. The IT manager was exasperated. The curious reporter kept asking questions. The sales person was raising hell. The developer was cynical. In the end, they looked at the reporter's notebook. What did it say? The company needed Oracle. Of course!
Oracle can not be blamed. The rest of the industry is heavily promoting the concept of the private cloud, too. Oracle just took it to a new level by shaping the language in the form of a box. One box. One private box.
It's no surprise that Oracle talks about a software suite fitting into a nice big stack. Not once did we hear any mention of Web Oriented Archtiecture or REST. We barely heard a word about SaaS except when Larry Ellison questioned Success Factors and Salesforce.com. In his Sunday keynote, Ellison said Salesforce.com has poor security because the data is all mixed up together. We're still tying to make sense of that one.
Out of all this, we can tell you that Exalogic Elastic Cloud is an impressive machine. It's the stack that Sun built. It has tremendous capabilities for heavy, intense data management.
It may eve represent the future of the data center as GigaOm points out. It can scale to eight racks. You can buy it in different configurations, The OS combines Solaris and Linux. It's standardized on Java. Apps can be ported to Amazon EC2. And in some ways it simplifies things for companies. Manage 20,000 servers or invest in a few Exalogic machines? Exalogic provides a new choice.
But cloud in a box? We think the industry can do better than that. What do you think?
Disclaimer: Hewlett-Packard is a sponsor of ReadWriteWeb and paid for Alex Williams' airfare and hotel at Oracle Open World.
The post Oracle Adopts the Worst Term for Cloud Computing to Describe an Impressive Machine appeared first on ReadWrite.