Web-based scheduling app Tungle announced today its integration with the Web meeting platform WebEx in a move certain to delight small business users who already utilize these products.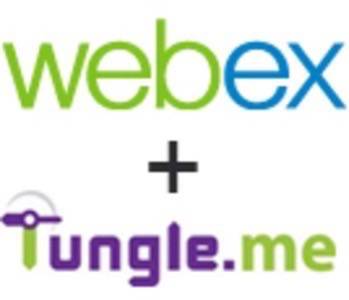 The partnership seems like a natural one, as Cisco-owned WebEx is one of the most popular tools for conducting online meetings and conference calls, and Tungle is an emerging platform for scheduling such meetings.

For those not familiar with it, Tungle is a simple, yet feature-rich tool that enables professionals to schedule meetings and appointments with others and find a time that works for everyone. After indentifying the purpose and attendees of the meeting, Tungle users can then propose one or more potential times to have it, and then email each attendee with a link to select which one works best for them. Once the meeting is booked, the organizer and attendees will get an email confirmation.
Best of all, Tungle integrates with a ton of popular calendaring services like Google Calendar, iCal, Entourage, Outlook, Yahoo Calendar, Lotus Notes, Windows Live and Plancast. You can even automatically create Facebook events.
When putting together a new meeting in Tungle, the organizer can now automatically embed the link for a WebEx invitation.
Both products have apps for Blackberry and iPhone for scheduling and attending meetings on the go.
The post Schedule WebEx Online Meetings Easily Using Tungle appeared first on ReadWrite.