Users who want to advertise what they're watching and share recommendations for TV shows and movies with friends have plenty of choices. Apps and mobile sites including GetGlue, TV.com Relay, Philo, Miso, etc. all hope to siphon conversation about TV, movies and even books and music from social networks like Twitter.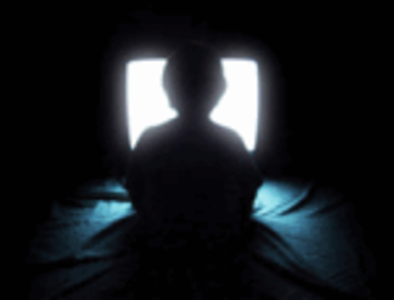 But there seems to be disagreement on how to do this and why users should want to share their thoughts on an entertainment-specific platform instead or in addition to Twitter and Facebook, where friends are most likely to see them.
Some believe the value comes from talking about what you're watching and sharing recommendations with friends. Others hope to motivate users with badges and tangible rewards.
GetGlue, an app for iPhone, iPad and Android users, offers a loyalty program for superfans. GetGlue claims 200,000 check-ins a day, for which users can earn stickers and win free stuff. "I can like 'True Blood' on Facebook, or I can check in to 'True Blood' every Sunday night, religiously. It demonstrates I'm a better fan that just someone who Likes," GetGlue founder and CEO Alex Iskold told Ad Age.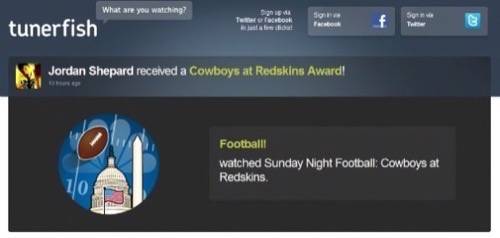 Tunerfish, the social TV startup from Comcast, relies more on intangible game mechanics similar to Foursquare's. Users can earn bades like the city-themed badges you earn for checking-in while watching Sunday Night Football on NBC. You also earn "influence points" based on how many users check in after following your links with the chance to be designated "Top Influencer" and have your profile featured in a special section on the Sunday Night Football Page on Tunerfish.com.
CBS is planning to "promote the heck out of" its awkwardly-named mobile Web app, TV.com Relay, once the fall television season starts. Users start checking in to TV shows because it's more fun to involve your friends than to watch TV in isolation, said Anthony Soohoo, head of CBS Interactive. But he believes game mechanics will be central in keeping users engaged.
"We're trying to create a fantasy sports equivalent for entertainment," he said. "It could be like liquid crack for the users."
Television is becoming more social as it integrates with the Internet (see "Foursquare For Boring People? Maybe, But It's the Future of TV"). Do any ReadWriteWeb readers use a TV check-in app? Why do you do it?
The post Social TV App Makers Disagree On Why Viewers Should Check In appeared first on ReadWrite.