Multiply.com, a well-designed social network that emphasizes different levels of privacy and has a super-loyal fan base, has sold a controlling interest in its company to South African media company Naspers.

Joseph Tartakoff of PaidContent reported on the deal this morning, but the big picture take-away is this: There are large audiences to serve with social media outside the U.S. (Multiply is particularly popular in Southeast Asia), there are potential acquirers outside of the U.S. (Naspers has also invested in Digital Sky Technology, the Russian firm that put huge sums into backing Facebook) and finally – there's a market for clear, useful privacy controls in social networking.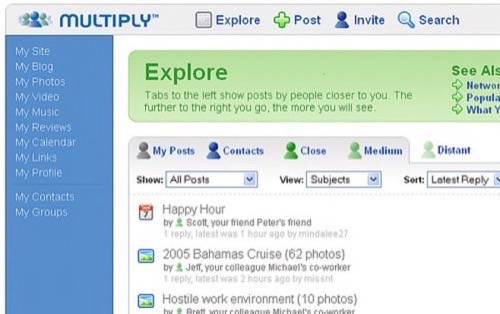 We first looked at Multiply four years ago next month and said it offered "a fundamentally different way of consuming personalized information." Specifically, the service automatically analyzed how close you are socially to the various people whose content comes through your feed of subscribed status updates, shared media, etc. and then allows you to turn a dial to view items shared by people more or less close to you.
It's an idea that proceeded but sounds a whole lot like Facebook's Newsfeed vs. Live Feed feature, which was launched in October of 2009.
Borrowed From by Facebook, Passed Up by Twitter
As early as 2008, Multiply accused Facebook of repeated copy-cat moves to rip-off its original designs and feature innovations. The accusations seemed to have some merit, and Multiply noted some irony in the fact that Facebook had recently sued a German copy-cat site for borrowing too liberally from its design.
One innovative feature that Multiply came up with that would be nice to see Facebook borrow more from was the variable privacy settings available when publishing an update or sharing media. Multiply makes it super easy to limit visibility of shared items to friends, family, friends of friends, etc.
Facebook does offer this type of feature, but buries it deep under default settings instead of encouraging its use. Instead, Facebook has pushed users into sharing as much as possible with as many people as possible. Supporting the contextual integrity of social networking communication is now one of the primary ways that challengers of Facebook aim to differentiate themselves.
Might Naspers take Multiply worldwide with a new infusion of support? It may, or it may not. We've reported here on a number of Nasper's investments in years past, from Russian email giant Mail.ru to the fantastic African social media aggregator Afrigator. It's not clear that those deals took the companies that received Naspers money to any higher level of impact on the Web.
It's a big world out there, though, and Multiply will now get a chance to expand further with the support of a major media backer.
The post The Best Social Network You've Never Heard of Gets Bought Out appeared first on ReadWrite.