If Facebook made a phone, would you make it your next handset? Millions of people might.

Despite the company's public denial, Facebook is making a phone, on some level, according to reputable reports by TechCrunch, CNet and Business Insider. What does it mean? There are a range of ways to consider the prospect of a phone created by the world's biggest social network. It could be creepy, evil, or pointless. Or it could be a fabulous technological innovation and equalizer. If everyone on Facebook used a Facebook phone, only China Mobile would be a bigger phone network, worldwide. The definition of a phone is clearly changing, though, and a Facebook Phone makes sense within that context.
Facebook Phone as Genius
A phone that had Facebook contacts, media sharing and the Newsfeed at the core of the user experience would represent a radical shift in what many peoples' phones mean to them. It would bring together synchronous communication by voice and chat with an asynchronous inbox and Newsfeed of status updates.
It's one thing to have a smartphone with apps on it, but what would it mean for a low-end phone to put one-to-one voice calls and network-broadcasted status messages on equal footing? That would change what the phone is to people switching from a feature phone to a Facebook phone.
The tight integration of Facebook contacts alone is likely to make every phone call much richer. As mobile blogger Abhishek Tiwari fantasized when the Google Phone was all-promise and not a developer-only non-seller: "The contact list is the user's true social graph, which can offer much more than just phone numbers… For example: From the contacts application, I should be able to view my Friends profile and other information… view latest pictures and comments posted by friends. [etc.]"
This is the scenario I'm cheering for – Facebook Phone as awesome.
Facebook Phone as Evil
Facebook may be the most popular social network in history, but the company's bait-and-switch around user privacy has turned it from a beloved home on the Internet to just another big service provider used begrudgingly for many people. Facebook's privacy shenanigans cost it a whole lot of user trust.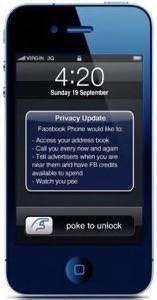 A survey this summer by the American Consumer Satisfaction Index found Facebook to be "in the bottom 5% of all measured private sector companies" regarding user satisfaction, side-by-side with airlines, cable companies and the IRS.
Are consumers likely to invite Facebook even deeper into their lives? It's not hard to imagine many people having an adverse reaction to the idea.
Facebook Phone satire image from Sean Percival.
Facebook Phone as a Business Essential
Apple, Google and Microsoft all have their own phones and mobile is a big, big part of where the Web will be in the future. Doesn't it make sense that Facebook would want to be more than just an application on everyone else's platform? As mobile blogger Rene Ritchie wrote this morning, Facebook is absolutely working on a phone (or they're nuts).
Facebook Phone as an Equalizer
There are a huge number of people in the world who cannot afford or who do not want to spend the money on an expensive smartphone and the associated data costs. A Facebook Phone could help those people move meaningfully into the mobile Internet. Remember Facebook Zero? This May, the company announced deals with 50 mobile operators in 45 countries to provide mobile access to Facebook without it counting against a person's data charges.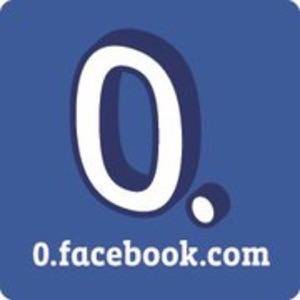 That was an incredible move to open up affordable access to the mobile Web for millions and millions of people. A Facebook Phone could be a similar kind of move, if the price is really as low as early reports expect.
Facebook Phone as Silly and Unneeded
"New 'Facebook Phone' Aims To Undercut Rivals On Price," one headline read – in November 2008. That from a small UK mobile carrier. Other companies have tried to launch social-software-centric mobile phones before, most notably the Microsoft Kin, which failed miserably.
Does Facebook need a phone? Perhaps it thinks it does – but do Facebook users? As Android phones come down in cost, many people are likely to be satisfied with the Facebook app on an otherwise general-purpose phone.
What do you think? When you hear the phrase "Facebook Phone" do you think of exciting new innovations in mobile social networking? Or do you think it sounds ridiculous? Or worse, nefarious? Let us know in comments – there are clearly a lot of different ways to understand this news.
Surely it's time for the phone to change – is this one of the directions it's likely to change in?
The post The Facebook Phone: Five Theories About What It Could Mean appeared first on ReadWrite.