Twitter is usually described as a social network or a microblogging service that evolved from the simple concept of group text messaging. But the company's mission has crystallized after about four years, and social networking and discussion are no longer central to the value proposition.

Instead, Twitter is increasingly about news, content and information in an easily-digestible format. By delivering real-time updates curated by individuals and publishers of your choosing, Twitter ended up in the same space as RSS readers and social bookmarking sites like Del.icio.us. And people liked Twitter better.
Content is proliferating on the Web in so many formats that it seems like anyone who tries to keep up with it all is going to be snowed under. There are many tools to organize the madness. Facebook is home for much of the content that people share directly with their peers. You can also get your daily Web content from email, news web sites, link aggregators, browser bookmarks, a custom start page, RSS readers and other feeds.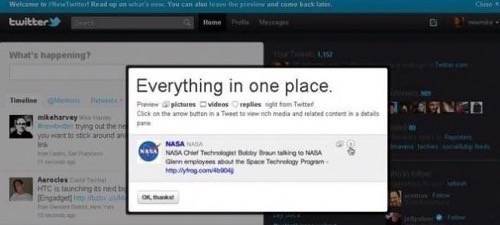 But for many users, Twitter is the best tool for consuming new content on the Web. Twitter made it easy to share a piece of content with the most minimal of enticing descriptions. People started thinking of Twitter as a way to curate the Web. Twitter delivers a wide variety of content from your friends or sources you admire in real-time, optimized to your interests but with an element of randomness. It makes you feel like you're on top of the day's news while letting you discover the latest diversionary memes. You get your vitamins and the sweet stuff.
I was trying to think of a catchy way to describe Twitter's new role. I remember how I explain Twitter to people who had never used it before and protest that they don't have anything to say. You don't have to say anything, I say, just use it like an RSS reader or to find random interesting stuff from people like Kanye West and CNN. Twitter has evolved into a customizable Web reader in addition to being a microblogging platform and a social medium. The new interface at Twitter.com, which includes photos and videos in your stream, will encourage the average Web user to use it this way.
How do you use Twitter?
The post Twitter Helps Users Tame the Growing Web appeared first on ReadWrite.